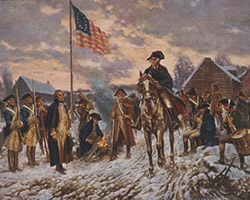 The Chairman for the California Society Valley Forge Teacher Scholarship Award Program is Robert "Bob" Taylor.
This award is open to all 5th Grade Elementary School Teachers, 8th Grade and High School American History Teachers, either public, private or parochial who teach the American Revolution. The selected teachers (up to two each year) will receive a trip to the Summer Graduate Teacher Workshop related to the American Revolution presented by the Freedoms Foundation at Valley Forge, Pennsylvania. (The chosen workshop will be the one most closely related to the American Revolution.) The Award, valued up to $1,700 includes tuition, room and board*, and transportation expenses (transportation limited to $500.00). (*meals are provided when on-campus only; meals for off-campus visits to workshop sites are not included.)
Download a Powerpoint Presentation: Freedoms Foundation at Valley Forge Presentation
Video Tour by Steve Schmidt from Lowell High School: Watch on Youtube
Below is the description of the Freedoms Foundation at Valley Forge Graduate Teacher program for 2019:
Revolution and Rebellion, 1756 – 1794
Philadelphia to Pittsburgh, PA
5-10 July 2019
Academic Director: Mr. Arch Hunter
This workshop features field studies and tours of:
Independence Hall & The Liberty Bell
The Museum of the American Revolution
The papers of the American Philosophical Society
Historic Waynesboro & Fort Loudon
Flight 93 Crash Site, Shanksville
Fort Necessity & Gen Braddock's Grave
Jumonville Glen Battle
Fort Leggier & History of Local Native Americans
Braddock's Battlefield Museum
Fort Pitt & Fort Duquesne
Itinerary:
Friday, 5 July 2019: Travel day – please plan to arrive at Philadelphia International Airport (PHL) before 4:45pm and take the shuttle to the Freedoms Foundation Valley Forge campus. Program orientation starts at 8:00pm.
Wednesday, 10 July 2019: Departure day – all participants will be brought to Pittsburgh International Airport (PIT) by 2:00pm for your flight home.
For more information on the Program, please contact the FFVF Education Department at (610) 933-8825 ext. 292 or
education@ffvf.org
.
Application:
If interested, prepare the California SAR Application for Valley Forge Teacher Scholarship and submit it to a nearby California SAR Chapter.
Members may check the Members Section for additional Chapter Resources.