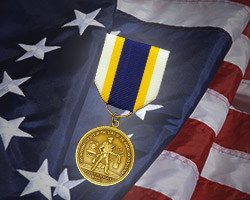 The Chairman for the Spirit of America Award Program is Bob Taylor.
The Spirit of America Award involves working with officials of a middle school or junior high school district to select and award two young people (one boy, one girl) from the district's graduating class to receive the SAR Bronze Good Citizenship Medal and its accompanying certificate at the graduation ceremonies of each selected student's school
The Gen. Patton Chapter has been continuously presenting this award since 1985 to a boy and a girl in the graduating class of the middle schools in their area.  The boy and girl that are selected as winners for the whole school district receive the SAR Bronze Good Citizenship Medal and certificate. The other boys and girls selected by the individual middle schools to represent them in the competition each receive the Outstanding Citizenship Pin and certificate.  The awards are presented at the graduation ceremony at each Middle School.
The winning students at each middle school are selected by the faculty, and the two winning students at the school district level are selected by the school district staff from the winning students selected at the middle school level.   The Chapter is one of the very few community agencies that present awards to graduating students at the graduation ceremonies.
To read the description of the program as written by the founding Chapter, the Gen. Patton Chapter, download: Spirit of America Award.