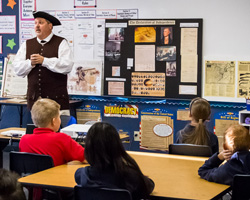 The Chairman for the Americanism Elementary School Poster Contest is David A. Gilliard.
The 2021-22 Topic is
"The Gaspee Affair" 
2022 is the 250th anniversary of the Gaspee Affair, also known as the Burning of the Gaspee.
More information about this important event leading up to the American Revolution can be found here:
www.gaspee.org
This contest is open to grade school students studying the American Revolution. In California public schools, the American Revolution is normally taught in the 5th grade, but private and charter school may teach it in grades 4 through 6. Entries should be submitted to local SAR chapters through school classrooms or directly by cub scouts and CAR members.
Posters are judged on the following criteria:
Does the poster express the annual theme, show originality and evidence of research. Does the poster show artistic merit and creativity and is it neat and visually pleasing? And, does the poster accurately reflect the yearly topic?
TIP: Check for spelling and historical accuracy!