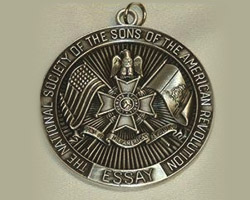 A scholarship money competition for California high school students. If there are questions, contact Knight Essay Program Chair Patrick Cecil, Ph.D.
Deadline for entries to be received by your local chapter: December 31
Deadline for chapters to submit their winning entries to the state contest: January 31
Deadline for the State Chair to submit the winning entry to the National Chair: February 28
For information on the Knight Essay Contest, please visit the National Society SAR Website.