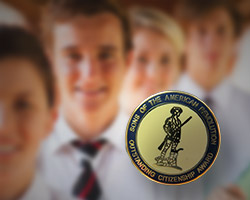 California SAR Chapters may invite high schools to select one young man or one young woman from their senior class to receive the Outstanding Good Citizenship Award.
The Outstanding Citizenship Lapel Pin or engraved Bronze Medal and Certificate is presented in recognition of the recipient's furthering of American citizenship principles. The High School's selection process should take into consideration the student's overall scholarship and citizenship; or a student with the highest grades in history and the best record in citizenship.
Generally, participating Chapters direct the Chapter Youth Program Chairman or a designee to mail Letters of Invitation to the high schools in March of each year. Schools submit the name of hte student candidate to the Chapter's Youth Program Chairman as early as possible, but no later than the first Friday in May to allow time for the preparation of the materials.
A Chapter representative can present the Label Pin or engraved Bronze Medal (discretion of the Chapter) and Certificate (if scheduled early) or a school official may make the presentation.
The High School Outstanding Citizenship Award Program is vacant. Please contact Youth Activities Director Dan McKelvie.