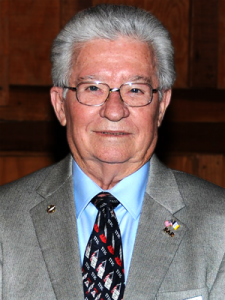 Alan Brown Brooking (87) died peacefully at home on December 1, 2020, after a three-year battle with throat cancer.
Alan joined the SAR in 2012 and immediately became active at the chapter, state, and national levels. He was a member of both the Sacramento and Gold Country chapters. He served the Sacramento Chapter as member of the Color Guard, Telephone Committee, Greeter and Cashier, and as President of the Sacramento Chapter in 2017.
Alan and his wife Susan, a DAR member, never missed an SAR or DAR meeting when they were in town. The Gold Trail Chapter DAR was also a beneficiary of his many kindnesses— if DAR chapters had mascots, Alan was Gold Trail's.
Alan was a native of Oklahoma City, born November 29, 1933, to Ludie (Pickett) and Levi Henry Brooking. He attended Oklahoma City University.
Alan was proud of his service in the U.S. Navy, particularly his Mediterranean Cruises aboard the USS Intrepid. His flight operations photos and cameras are part of the Intrepid, Sea, Air & Space Museum Complex in New York City.
He was a successful small business owner providing window coverings for most Silicon Valley tech companies, hospitals and schools. Alan met Steve Jobs when Apple Computer was just one small building in Cupertino. Apple and Alan's company continued their relationship through construction of the Infinite Loop Campus.
Alan's personal interests were varied: he created stunning stained-glass windows; crewed on Porsche race teams at Le Mans, Daytona, and Sebring; autocross'd his own Porsches and prepared them for show in club concours events. During the 1970's, Alan became an avid antique fountain pen collector and traveled to international pen shows throughout the US.
Those who knew Alan know he welcomed an opportunity to share interesting conversation and a wee dram of good Scotch Whiskey.